Highlights
Related resources
Related Activities
Community Risk Assessment and Climate Adaptation Tools
Field research on the costs and benefits of different avenues for disaster risk reduction in the core project field areas (the Lei Basin (Rawalpindi) in Pakistan, Eastern Uttar Pradesh in India and the Terai region in Nepal) has been completed by the end of April. In May-June the research moved into the modeling phase required to produce quantitative estimates of the costs and benefits of DRR interventions under different climate and risk reduction scenarios.
Ongoing results from the project were presented at a meeting of DfID's CHF program partners in London in April. Participants expressed particular interest in the semi-quantitative methodology for vulnerability mapping developed in Pakistan.
Project findings were also highlighted in a special session at the International Disaster Reduction Conference in Davos in August. The publication "From Risk to Resilience - Understanding the Benefits and Costs of Disaster Risk Reduction under Changing Climatic Conditions" was launched and widely disseminated at the Conference.
A second round of 11 case study, methodology and summary papers is currently being completed. The next phase of the project will focus on widespread dissemination of the material at key forums, such as the COP-14 in Poznan and the National Disaster Management Institute meeting in India in December.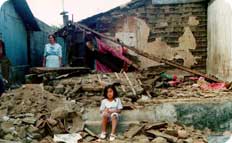 ProVention's current involvement in climate risk issues relates to various initiatives concerned with linking climate risk management and natural hazard risk management interests both in terms of policy coherence and operational approaches. The main goal of activities in this field is to encourage stronger linkages between the climate adaptation and risk reduction agendas, recognising the potential synergies in terms of advocacy and policy, assessment tools and practical adaptation/risk reduction measures.
Project goal
To increase global access to conceptual frameworks and analytical methodologies for identifying climate adaptation and disaster risk reduction options in different contexts.
Objectives
Review and document risk assessment and climate adaptation tools and methodologies that have been previously used in ISET/ ISET-partner programmes in South Asia.
Document new tools that are being developed and tested in current field programmes.
Document how tools and methodologies are used to plan and implement intervention strategies in specific contexts.
Timeline
November 2006 – October 2008 (first phase)
Background
Although global awareness of the need for disaster risk reduction and the importance of climate adaptation have increased greatly in recent years, this has not been matched by the development of systematic methodologies that governments and development organisations can deploy to guide the development of policies, projects and other interventions.
By systematically documenting methods, illustrating how they have been used in specific case contexts and contributing the results to the ProVention Community Risk Assessment Toolkit, the project will begin to address the above gap. The immediate result will be to increase access for organisations working on DRR and Adaptation to methodologies and conceptual frameworks they can use in designing their programme and implementation strategies. The methods will help organisations evaluate basic parameters such as the costs and benefits of specific implementation options. It will also help them identify strategies that are likely to be effective in different implementation and policy contexts. Over a longer term, this should result in substantive improvements in the targeting and effectiveness of DRR and Adaptation programmes at community, regional and policy levels.
The primary audience for the project's products are governments, NGOs, international agencies and the private sector, who are concerned with the design and implementation of development programs on disaster risk reduction and post-disaster recovery.
Partners
Planned activities
Document tools, methods and case studies used in ISET's prior work on local water management and climate adaptation in India and Nepal by:

Hosting meetings of project partners to review methodologies used in the Adaptive Strategies project;
Drafting of a summary document to document those case studies and others having used other methodologies;
Collecting material on methods and drafting four case studies by partners;
Reviewing of wider literature relevant to the methodologies;
Writing of larger conceptual and methodology synthesis draft by ISET;
Publishing a review document at the end of the first year.
Produce a well illustrated methodology handbook and track and document how methods are applied in the course of fieldwork by:
Assigning a consultant to document methodologies used;
Holding methodology review meetings;
Evaluate and review project progress once the full draft methodology handbook is available.
Key Deliverables
A major review and cases covering methodologies used in prior research for the Adaptive Strategies project (published in November 2007)
A methodology handbook with substantive case illustrations from the ongoing programme (forthcoming)
The publication "Working with the Winds of Change. Towards Strategies for Responding to the Risks Associated with Climate Change and other hazards" was released in November 2007 and presented during the Climate and Development Days at the Conference of Parties 13 in Bali in December 2007.
The publication From Risk to Resilience - Understanding the Benefits and Costs of Disaster Risk Reduction under Changing Climatic Conditions was released in September 2008 and presented at the IDRC 2008 in Davos.
Related activities
ProVention supported and participated in the past three major conferences organised by the Red Cross / Red Crescent Climate Centre:
In 2007 ProVention supported the development of the Red Cross/Red Crescent Climate Guide and the production of a 7-minute video by IFRC, entitled "Climate Change: a major humanitarian challenge", which were both launched at the Red Cross/Red Crescent International Conference at the end of November 2007.
In 2005-2006, ProVention was involved in a dialogue with the ISDR/IATF Climate Change and Disaster Reduction Working Group and the RC/RC Climate Centre on how tools used by the disaster risk reduction community can be put to use for climate risk assessment. A policy paper on this topic was presented by ISDR at the latest COP Meeting in Montreal.
In 2002, ProVention provided support to the World Meteorological Organization (WMO)-led global review of Regional Climate Outlook Forums. This resulted in several new initiatives aimed at increasing the availability of national and regional level climate variability information, as well as the development of new products to provide sector specific information. In March 2002, a teleconference was held with the World Bank, the International Research Institute (IRI) for Climate Prediction of Columbia University (IRI), and the National Oceanic and Atmospheric Administration (NOAA) to advance the development of an on-line toolbox that would support the exchange of knowledge between regions and provide a portal into regional climate forecasting. ProVention also supported and participated in an El Niño Preparedness Conference in the spring of 2002. The conference dealt with preparedness and monitoring measures due to the high likelihood of an El Niño event in 2002/2003.